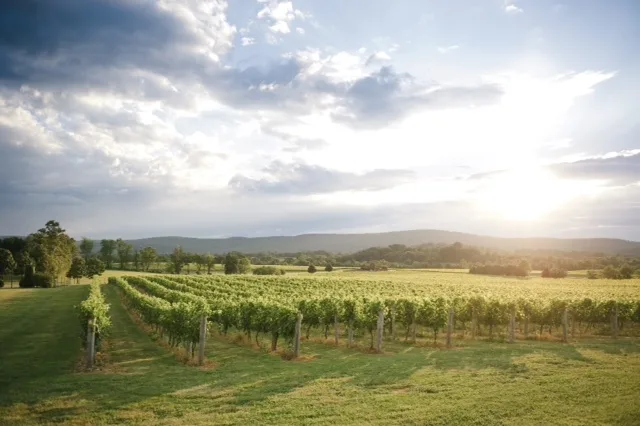 Breaux Vineyards is a winery located in Purcellville, Virginia in Loudoun County. The winery is situated on a beautiful estate with a stunning view of the Blue Ridge Mountains. The winery sits on 400+ acres and has a total of 104 acres of vines, with the majority of them being planted with Viognier, Chardonnay, Cabernet Franc and Petit Verdot.
The winery has a tasting room where customers can sample and purchase their wines. The tasting room is open daily, with different hours for different seasons. The tasting room offers a variety of wines to taste, including their flagship wines such as Viognier, Chardonnay, Cabernet Franc, and Petit Verdot. They also offer a selection of red, white and sparkling wines, as well as a reserve wine list. The staff is knowledgeable and friendly, and they are happy to answer any questions about the wines or the winery.
Visitors to Breaux Vineyards can also take a tour of the winery and vineyard. The tours are led by knowledgeable staff who will take you through the vineyards and explain the winemaking process, as well as give you a chance to see the winery and learn about the history of the estate. The tours are available by appointment and are a great way to learn about the winery and its wines.
The winery also has a picnic area where visitors can enjoy their wine while taking in the beautiful views of the Blue Ridge Mountains. This is a perfect spot to enjoy a bottle of wine and a picnic lunch while relaxing and taking in the beautiful scenery. The winery also has a large lawn area, perfect for a game of frisbee, bocce ball or simply enjoying the views.
Breaux Vineyards is also known for hosting events, weddings and other special occasions. They have a variety of event spaces, including an outdoor pavilion that can accommodate up to 250 guests, as well as indoor spaces that can accommodate smaller groups. They have experience hosting a wide range of events, from corporate events and conferences to birthday parties, anniversaries, and weddings. They also offer catering services for events and can provide a wide range of menu options to suit your needs.
The winery also has a store that sells wine-related gifts, accessories, and even gourmet foods. They have a wide selection of wine glasses, decanters, and other wine accessories, as well as gourmet foods such as cheeses, chocolates, and jams. They also have a wide range of wine-related gifts, such as wine-themed clothing, books, and other items.
In addition, Breaux Vineyards also offers a wine club. The wine club is a great way to stay connected with the winery and to ensure that you never run out of your favorite wines. Members of the wine club receive exclusive discounts and benefits, including free tastings, discounts on wine purchases, and access to special events and promotions.
Finally, Breaux Vineyards is well known for hosting live music events, festivals and parties throughout the year. They have a large outdoor stage and seating area that is perfect for live music events. They also have a large lawn area that is perfect for festivals and other outdoor events. They host many events throughout the year, such as music festivals, wine festivals, and other special events.
Breaux Vineyards Map