Who doesn't love a night out in the city? Whether you're looking for a romantic evening or an adventure with friends, Washington, DC has something for everyone after dark. From cultural events to outdoor activities, there's no shortage of ways to explore the city and experience its vibrant nightlife. Read on to discover some of the best things to do in Washington, DC at night!
If you're seeking an exciting evening out on the town, look no further than The Wharf. Located on the banks of the Potomac River, it's one of DC's newest and trendiest neighborhoods. You can find plenty of bars and restaurants along its waterfront promenade—perfect for drinks with friends or a romantic dinner overlooking the river. There are also several live music venues where you can catch local acts or national touring bands playing everything from jazz to rock 'n' roll.
If you prefer outdoor activities, DC has plenty of options too. Take a stroll through Dupont Circle and admire its historic architecture, visit one of its many parks, or take a nighttime bike ride along one of its trails. Whether you're looking for a fun way to spend an evening or just want to relax and take in some fresh air—DC is sure to have something that fits your needs. So what are you waiting for? Explore all that the city has to offer after dark
Visit The National Mall
Exploring the National Mall at night is a truly exceptional experience. The monuments and memorials that line its open lawns are illuminated, with the structure of the Capitol building in the background. It's a beautiful sight to behold, and it's certainly one you won't soon forget.
Navigating this historic space after dark may be intimidating at first, but there are plenty of interesting activities to keep you occupied. People can take a walking tour or find a spot to watch one of the free outdoor movies that occasionally show on summer nights. Of course, simply strolling around can be just as rewarding – it's an ideal spot for deep conversations or romantic strolls with your loved one.
Take In A Show At Ford's Theatre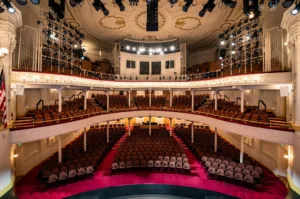 From classic plays to musicals, there's no shortage of exciting events happening at Ford's Theatre throughout the year. Whether you're looking for something fun and lighthearted or a thought-provoking drama, you're sure to find something that tickles your fancy. Plus, with pre-show talks and conversations with actors and directors, you can gain insight into the production process and get an even deeper appreciation of what you're seeing on stage.
So if you want to experience some of the best theatre Washington, DC has to offer without leaving its borders, look no further than Ford's Theatre! It'll be an evening you won't soon forget. All it takes is one visit to understand why so many people come back time and again – it really is that good!
Walk The National Mall Monuments At Night
Exploring the nation's capital in the evening is a great way to get a feel for the city. One popular activity is taking a stroll around the monuments on the National Mall at night. These monuments are often lit up, making them an impressive sight to behold.
Heading south from the Capitol Building, visitors can take in views of some of America's most iconic landmarks such as the Lincoln Memorial and Washington Monument. As you continue your walk, you'll also come across other lesser-known but equally beautiful monuments like The Korean War Veterans Memorial and World War II Memorial.
The National Mall in the evening is a unique experience that cannot be found anywhere else in the world. At this time of day, there's an air of tranquility and peace amongst all these majestic structures. It's something that everyone should experience at least once if they're ever in Washington DC. With its peaceful atmosphere and stunning architecture, it's no wonder why walking around the National Mall at night has become one of DC's top tourist attractions.
Enjoy A Night Out At A Bar Or Club
Exploring Washington, DC at night doesn't have to just be about monuments and museums. If you're looking for more of a lively experience, why not treat yourself to a night out at one of the city's many bars or clubs? DC has some of the best rooftop restaurants and bars. On any given night in the nation's capital, you can find places to dance, drink, and socialize in almost every corner.
When it comes to nightlife in DC, there's something for everyone. Whether you're looking for a laid-back atmosphere with craft cocktails or an all-night clubbing extravaganza, DC has plenty of options. From world-renowned venues like U Street Music Hall and 9:30 Club to hidden gems like L8 Lounge and The Red Derby, there are plenty of places where you can kick back and enjoy music and drinks with your friends.
For those who want even more adventure on their evening out in DC, many bars offer special events or themed nights. These range from horror movie screenings at the Black Cat to drag shows at Town Dance boutique to karaoke nights at Nellie's Sports Bar. Whatever your preference may be, you're sure to find something that tickles your fancy on any given night in the District!
Grab A Bite To Eat At A Restaurant Or Food Truck
As dusk falls in Washington, DC, there's plenty to do that doesn't involve staying at home. One of the most popular activities is grabbing a bite to eat at a restaurant or food truck. You can find all kinds of cuisines in the capital, whether you're looking for Mexican, Italian, Indian, or something else entirely. Many restaurants and food trucks are open late into the evening, so you can enjoy a delicious meal any time of day.
In addition to traditional sit-down restaurants and fast food joints, there are also plenty of unique food truck options available around the city. If you want to try something new and exciting, why not sample some street food from one of these vendors? You'll be able to enjoy an array of flavors from around the world without having to leave Washington DC. Plus, many vendors offer discounts after dark so you can save money while eating well.
If you're looking for a fun culinary experience in Washington DC at night then look no further than its numerous restaurants and food trucks. Whether you prefer a sit-down meal or street eats, there's something for everyone! From international flavors to budget-friendly dishes, you won't be disappointed with your choices in Washington DC. So why not grab a bite and explore the city after dark? You never know what kind of delicious surprises you might find!
Catch A Performance At The Kennedy Center
Heading to the Kennedy Center at night is a great way to spend an evening in Washington, DC. With their vast lineup of performances, there's something for everyone. From ballet and concerts to theater and comedy, there's always something happening at this world-renowned venue.
The Kennedy Center offers both indoor and outdoor performances. For those who enjoy a more traditional experience, the center has several theaters that host plays, musicals, stand-up comedy, and more. If you're looking for something a bit different, there are also outdoor events that take place on the terrace overlooking the Potomac River and beyond. Plus, once you've had your fill of culture, there are plenty of restaurants around the area for dinner afterward.
When planning to attend the Kennedy Center, it's important to check their calendar ahead of time so you can purchase tickets in advance. You'll have access to exclusive offers and packages that can help make your visit even better. Plus, if you plan ahead of time, you'll be able to explore all the other attractions in Washington while taking advantage of everything this iconic venue has to offer.
So if you're in Washington DC looking for an entertaining evening out with friends or family, why not head over to the Kennedy Center? With their variety of performances and convenient location near many restaurants and attractions, it's sure to be an unforgettable experience!
Take A Ghost Tour Of The City
Taking a ghost tour of Washington, DC is a fun and entertaining way to spend an evening. It allows visitors to explore the city's hidden history and discover its darker side. The tours usually visit haunted locations around the city, providing those who attend with an eerie and educational experience.
Guests on the tour can expect to hear about haunted sites such as Fort Washington Park, the Octagon House, or Lafayette Square. They might also learn about some of the area's most famous ghosts, like Abraham Lincoln's ghost at Ford's Theatre or Dolley Madison's spirit lingering in her former home. The stories told will be sure to both shock and fascinate anyone who attends these tours.
Another great thing about these ghost tours is that they are usually led by local guides who are very knowledgeable about the city's spooky past. Their stories provide an interesting perspective on what life was like in DC during different eras of history. After hearing all the tales, those on the tour will likely have a deeper appreciation for their time in DC and its haunted past!
So if you're looking for something unique and exciting to do in DC at night, why not give one of these ghost tours a try? You never know what you might see or learn – but it'll definitely be a memorable experience.
Spend An Evening At A Comedy Club
Consider spending an evening at one of the city's many comedy clubs. Comedy shows are a great way to relax, unwind, and have a few laughs. Plus, many of these establishments offer food and drinks, so you can make it a full night out.
There are plenty of places to see standup comedy in DC. The DC Improv is one of the most popular spots in town. The venue has hosted some of the biggest names in standup comedy, as well as up-and-coming acts. It's also home to improv classes and open mic nights for aspiring comics.
Another great option is Drafthouse Comedy located near Dupont Circle. This theater offers live shows every day of the week featuring some of the best local comics as well as big-name headliners from across the nation. With its late-night hours and relaxed atmosphere, this spot is sure to provide a memorable evening out.
So if you're looking for something fun to do after dark in Washington DC., why not check out one of these comedy venues? You're sure to have an enjoyable time and make some lasting memories!
Attend A Concert Or Live Music Event
Attending a concert or live music event is a great way to spend an evening in the District. DC has many venues showcasing artists from all over the country. Whether you're looking for up-and-coming indie bands or well-known big names, there's something for everyone. You can also search for free concerts in some of the parks and plazas.
No matter what kind of music you're into, there's something special about experiencing it live. It's an opportunity to be part of something larger than yourself, and to be surrounded by people who share your enthusiasm for the artist on stage. Depending on where you go, you may even get to meet the musicians after the show.
Tour The Historic Churches And Cemeteries
Be sure to explore DC's abundance of historic churches and cemeteries. Consider taking a night tour. From towering cathedrals to quaint little chapels, there is something for everyone to appreciate.
The most iconic church in the city is National Cathedral, which was built in 1907 as a memorial to George Washington. Its Gothic-style architecture is breathtaking and its stained glass windows depict biblical scenes. It's definitely worth a visit if you've never seen it before! Other noteworthy churches include St. John's Episcopal Church and Holy Trinity Catholic Church, both of which are located near the White House and feature stunning architecture.
If you're looking for something a bit more off-the-beaten-path, try touring some of the city's older cemeteries. The Congressional Cemetery is one of the oldest in DC and contains the graves of former presidents, senators, Supreme Court justices, and other notable figures from American history. Another great option is Oak Hill Cemetery, located just outside downtown DC. With its rolling hills and beautiful grounds, it provides a peaceful respite from the hustle and bustle of city life.
Touring these historic sites at night can be an incredibly rewarding experience. Whether you're looking for a place to relax or learn more about Washington, DC's past, a visit to these churches and cemeteries will not disappoint!