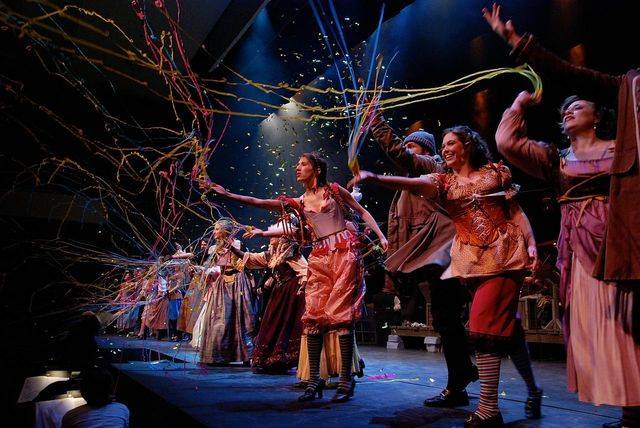 Theatres near me in Montgomery County
Round House Theatre
Round House Theatre is one of the leading professional theatres in the Washington, DC area, producing a season of new plays, modern classics, and musicals for more than 40,000 patrons each year at our theatre in Bethesda.
Silver Spring Stage
All-volunteer Silver Spring Stage, a community theatre in the Washington, DC region, is known for its high-quality performances. S.S.S., which opened in 1968, is one of the best theatres in the area.
Imagination Stage
To address the critical demand for the education of young people in the performing arts, the imagination Stage was established as BAPA (Bethesda Academy of Performing Arts). As the group prepared to relocate to its new downtown Bethesda theatre arts facility in 2003, it was renamed Imagination Stage in 2001. There were only a few kids in a single classroom at the beginning, but now they've evolved into a full-fledged theatre arts group with professional actors and artists behind the scenes. An unusual feature of Imagination Stage is that it commissions new works for kids each year. These projects have been honored by other firms throughout the globe with prizes and productions.
Adventure Theatre MTC
Adventure Theatre M.T.C. teaches and inspires a new generation of theatre performers and audience members via its great theatrical productions and educational programs.
Cultural Arts Center, Montgomery College
We are devoted to presenting and examining indigenous, American, and worldwide cultural expressions, both traditional and modern. Website
Rockville Little Theatre
Established in 1948, Rockville Little Theatre (R.L.T.) serves as Rockville's longest-running live theatre company. Performances by R.L.T. are of the highest calibre at moderate pricing. We aim to amuse, educate, and inform everyone who attends one of our theatrical productions. Playwrights, directors, wardrobe and scene designers, players, and audience members all get a chance to move out of their usual responsibilities at R.L.T.
Montgomery Playhouse
Montgomery Playhouse provides live, high-quality, affordable and accessible theatrical entertainment to the Washington metropolitan area, with a focus on telling stories that represent the diverse world in which we live. Montgomery Playhouse is focused on producing community theatre that is unique, compelling and inclusive.
Olney Theatre
Located north of Washington, D.C. in a quaint town of Olney in Montgomery County, the Olney Theatre Center offers a diverse array of professional productions year-round.
F Scott Fitzgerald Theatre
Located in the city's heart, the F. Scott Fitzgerald Theatre is a thriving venue for the arts. This 428-seat theatre, part of the Civic Center, hosts about 100 acts each year. The Rockville Musical Theatre, the Victorian Lyric Opera Company, the Rockville Little Theatre, and the Rockville Civic Ballet are just a few of the many performing arts organizations in the area. Everybody can find something to their liking at the F. Scott Fitzgerald Theater.
Kensington Arts Theatre
The realization of KAT is a difficult but worthwhile endeavor…and one that is still very much in progress. This organization was established on finding and presenting tales that challenge your preconceptions about people and the world around you. KAT is thrilled about the future. We are looking for individuals who are open to new ideas and willing to share their knowledge, skills, and perspectives. We're a small theatre company searching for a larger one to work with. This group's success will be based on its unique ideas and beliefs.
Black Box Theatre
A Black Box Theater is a simple performance space, typically a square room with black walls and a flat floor. The simplicity of the space allows it to be used to create a variety of configurations of stage and audience interaction.