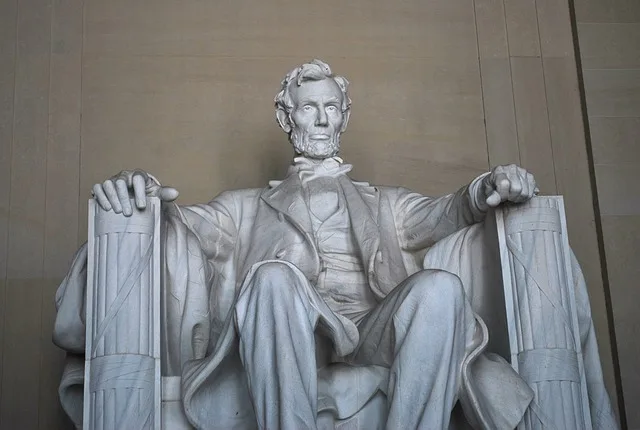 The Lincoln Memorial stands tall in the nation's capital, serving as a symbol of hope, unity, and freedom for all. This iconic monument is a reminder of the struggles our country has faced and the progress made towards equality for all. It was built to commemorate President Abraham Lincoln and his legacy as one of America's greatest presidents.
Since its construction in 1922, the memorial has welcomed millions of visitors from around the world. From political leaders to everyday citizens, people from all walks of life flock to this hallowed ground to pay their respects to Lincoln's memory and celebrate his accomplishments. The memorial is also home to some of America's most powerful speeches and moments in history, making it an important part of our national identity.
The Lincoln Memorial is a place unlike any other—a site that brings together people from different backgrounds and beliefs in pursuit of one common goal: honoring our 16th president and his message of freedom for all Americans. In this article, we explore the history behind the memorial, its impact on society today, and why it remains such a significant part of American culture.
History of the Lincoln Memorial
The Lincoln Memorial stands as a powerful symbol of freedom and liberty, honoring the 16th President of the United States, Abraham Lincoln. Located on the National Mall in Washington D.C., the memorial has been a part of history since it was dedicated in 1922. Its design was inspired by classical Greek architecture and its interior contains a 19-foot marble statue of Lincoln himself.
Construction of the memorial began in 1914 and was completed eight years later.
To this day, the Lincoln Memorial remains an iconic historical landmark that is cherished by Americans and people around the world alike. It is a place to remember our shared history, reflect on our current state of affairs, and pay homage to one of America's greatest leaders – Abraham Lincoln. It's one of the Ultimate Things to Do in The DMV.
Architectural Design Of The Memorial
The Lincoln Memorial is a popular tourist destination in Washington DC, renowned for its elegant architecture and powerful symbolism. Its iconic design has made it one of the most recognizable monuments in the world.
Built with Greek Revival-style architecture, the memorial serves as a tribute to Abraham Lincoln, the 16th President of the United States. It stands on the National Mall, facing west towards the Washington Monument and Capitol Building. The building consists of 36 columns that form a peristyle around an open chamber – these columns represent the states in the Union at the time of Lincoln's death.
On each side of this chamber is a statue of Lincoln – one looking east, one looking west – seated in contemplation and representing his role as both leader and peacemaker during America's Civil War.
In addition to its architectural features, visitors also come to experience and appreciate the memorial's rich symbolism.
From its iconic steps to its inscriptions from Lincoln's famous speeches, every detail tells a story about freedom and democracy that resonates today as much as it did then. With its timeless message and enduring legacy, it's no wonder that this monument remains one of America's most beloved treasures.
The
Staue

of Abraham Lincoln

The statue of Abraham Lincoln at the Lincoln Memorial is an iconic figure in American culture and history. Standing 19 feet tall, it depicts Lincoln seated in contemplation. The statue was designed by Daniel Chester French and crafted by the Piccirilli Brothers. It was unveiled in 1922 and has been a symbol of strength and resilience ever since.

The statue was created with white Georgia marble, representing Lincoln's humble beginnings as a Kentucky farmer. Its symbolism is further enhanced by the armchair that he sits on – which represents his role as Commander-in-Chief during the Civil War. Additionally, his gaze is directed towards the far horizon, representing his aspirations for freedom, justice, and equality for all people.

Standing atop a four-step dais is a huge bronze tablet with two of Lincoln's most famous speeches inscribed on it: The Gettysburg Address and his Second Inaugural Address. This serves to remind visitors of Lincoln's unwavering commitment to democracy and human rights throughout his presidency. It also provides a reminder that these values are still relevant today.
Lincoln Memorial Reflecting Pool
The Lincoln Memorial Reflecting Pool is an impressive sight. Its tranquil waters reflect the beauty of the memorial and its surroundings, creating a peaceful atmosphere. It stretches 2,029 feet in length, making it one of the largest man-made pools in Washington D.C.
When visiting the pool, visitors can admire its grandeur and appreciate its symmetry. The two sides of the pool are perfectly balanced and create a sense of harmony that can be felt throughout the area. The steps leading up to the pool from either side add to its stately look, as do the trees that line each side of it.
The Lincoln Memorial Reflecting Pool is a pleasant place to relax after taking in all the sights of this historic monument. Its calming atmosphere encourages visitors to take a moment to reflect on their time there before heading back out into the hustle and bustle of everyday life. It's an experience unlike any other and one that shouldn't be missed when visiting this iconic landmark.
Special Events At The Memorial
The Lincoln Memorial is more than just a place to visit and admire. It is also the site of many special events throughout the year. First, it's important to note that any event held at the memorial must be authorized by the National Park Service. This ensures that all activities are conducted safely and respectfully.
One popular event is the annual 4th of July celebration which usually features fireworks, live music, and other festivities. The steps of the memorial provide a perfect backdrop for watching these events. Other special events commemorate various holidays such as Martin Luther King Jr Day, Presidents' Day, and Memorial Day.
Throughout the year, there are also educational programs offered at the Lincoln Memorial as well as special ranger-led tours. These provide visitors with an opportunity to learn more about this iconic monument and its history while appreciating its beauty and significance in American culture. Whatever time of year one visits, there's sure to be something special happening at this incredible landmark in our nation's capital.
Visitor Information For The Memorial
Visiting the Lincoln Memorial is a meaningful way to honor Abraham Lincoln and learn more about our nation's history. However, there are some practical things to consider before heading out.
The most important thing to know is that admission to the Lincoln Memorial is free and open to the public. It's open 24 hours a day, seven days a week, 365 days a year, so no matter when you'd like to visit you'll find it open. Additionally, there are plenty of amenities onsite like restrooms, gift shops, and places to eat nearby.
Since it's such an iconic landmark, the area around the memorial can get very crowded at times — especially during peak tourist season. For those who want to avoid large crowds, it's advisable to plan your visit in advance and arrive early in the morning or later in the evening. That way you can enjoy the spectacular views without having too many other people around.
No matter what time of day you decide to visit, be sure to take some time to appreciate our nation's history and pay tribute to one of its greatest leaders — Abraham Lincoln!
Surrounding Landmarks Of The Memorial
The Lincoln Memorial is a landmark located in Washington D.C. and has become a symbol of national pride. It is surrounded by many other famous landmarks that are worth visiting while you're there. Let's take a closer look at some of the surrounding landmarks of the memorial.
One of the most popular attractions near the memorial is The Reflecting Pool, which is located on the National Mall directly in front of it. This pool is over two thousand feet long and provides visitors with stunning views of both the memorial and the Washington Monument. Additionally, it's often used for special events such as concerts and festivals that take place throughout the year.
The Korean War Veterans Memorial and Vietnam Veterans Memorial are also nearby attractions that are worth visiting while you're in the area. The former honors those who served during the Korean War and features statues of soldiers walking through rice paddies, while the latter honors those who served during Vietnam and consists of a wall inscribed with the names of fallen soldiers and veterans alike. Both sites provide visitors with an opportunity to pay respects to those who have sacrificed for our nation's freedoms.
These sites offer visitors an opportunity to not only appreciate history but also honor the brave men and women who have served our country over time – making them essential landmarks when visiting Washington D.C.. Whether you're looking for breathtaking views or honoring those who have served, these surrounding monuments give visitors an unforgettable experience when visiting The Lincoln Memorial in Washington D.C.
Conclusion
The Lincoln Memorial is an iconic symbol of the United States and a must-see for any visitor to Washington D.C. Admission to the memorial is free and open to the public every day of the year, with hours varying by season. Guided tours are available, as well as special programs and activities for children that make the experience even more memorable. The Lincoln Memorial also features a gift shop where visitors can purchase souvenirs to remember their visit.
Visiting the Lincoln Memorial is an excellent way to learn about American history and gain insight into President Abraham Lincoln's legacy. From his struggles during the Civil War to his famous Gettysburg Address, this memorial stands as a reminder of how far our country has come since then. Whether you're visiting Washington D.C. or just looking for an educational field trip, the Lincoln Memorial is sure to provide an enriching experience for all who visit it.
Take a step back in time and visit this iconic landmark today – you won't regret it! The breathtaking views, history lessons, and unique programs offered at the Lincoln Memorial will leave you with memories that will last a lifetime.
FAQs
There is no charge to enter the Lincoln Memorial! It's free for everyone - no reservations or tickets required.
The Lincoln Memorial is open 24 hours a day, 7 days a week.
The National Park Service offers free guided tours, lasting an hour and fifteen minutes, from April through August. These tours are led by a park ranger who provides interesting facts and history about the memorial. Additionally, other companies offer private tours that include access to special areas not available on the public tour.
There is a gift shop located at the Lincoln Memorial!
The memorial's gift shop offers a wide selection of items for sale, ranging from books and apparel to jewelry and home decor. There are also keepsakes such as postcards, mugs, and keychains that make perfect reminders of your visit for yourself or friends and family back home.
The Lincoln Memorial has its own Junior Ranger Program, allowing children to explore the monument on their own and learn about its history and significance. The park also offers several interactive exhibits that use technology to bring Abraham Lincoln's words and stories to life. Kids can watch films about his life, listen to audio recordings of his speeches, and even take an online quiz about the memorial.
Map Location of Lincoln memorial