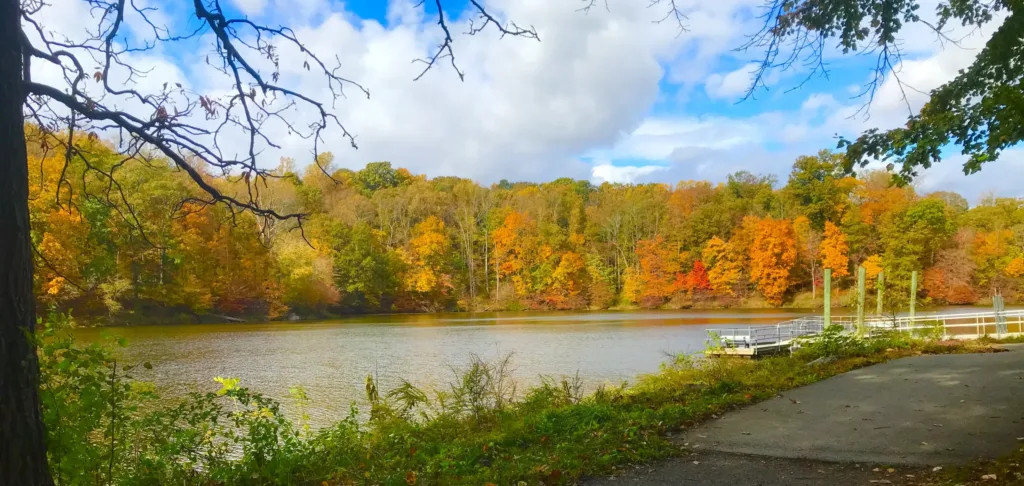 Lake Needwood is a beautiful, secluded lake located in Montgomery County, Maryland. This man-made lake was created in 1975 when the Washington Suburban Sanitary Commission (WSSC) built a dam and spillway on Rock Creek. The lake was initially used as part of the water supply system, but it also quickly became a popular spot for fishing, boating, and other recreational activities. Over the years, the area around the lake has been developed to include walking trails, picnic areas, and other amenities, making it a popular destination for locals and visitors alike. Lake Needwood is now a beloved part of the Montgomery County community, and it continues to provide a tranquil escape for those who visit.
Activities at Lake Needwood
At Lake Needwood, you can enjoy a variety of outdoor activities, such as fishing, kayaking, and canoeing. The lake is stocked with largemouth bass, bluegill, sunfish, and catfish. Whether you're a novice or a seasoned angler, you're sure to have a great time fishing at Lake Needwood.
Canoeing and kayaking are also popular activities at Lake Needwood. The lake is surrounded by many trees providing a serene backdrop for a day on the water. There are plenty of spots to explore, from the wide open main lake to the shallow coves and inlets. Whether you're looking for a peaceful paddle or an adventurous day of exploring, Lake Needwood is the perfect place to get out on the water.
The beauty of the lake doesn't just stop at the water's edge. The area around the lake is dotted with easy walking trails, giving you the perfect opportunity to soak in the stunning scenery.
The trails at Lake Needwood are well-marked, so it's easy to find your way around. You'll pass through a variety of landscapes, from wooded areas to open fields. As you wander along the trails, you'll be treated to incredible views of the lake and its surroundings. Keep your eyes peeled for wildlife, too – you may spot deer, birds, and other animals as you explore.
If you're looking for a place to picnic, there are several scenic spots at Lake Needwood. There are several picnic areas with tables, grills, and benches, so you can sit back, relax, and enjoy a meal with a view. You can also bring your own food and snacks.
The trails, picnic areas, and other amenities at Lake Needwood make it an ideal spot for a day out. Whether you're looking for a peaceful escape or a fun-filled adventure, you're sure to have a great time at this picturesque lake. So make sure to plan a visit to Lake Needwood the next time you're in Montgomery County – you won't regret it!
Lake Needwood Location Map